Please see in attached PDF regarding what requires to get the home to "Rent Ready" status and a few owners repair FAQ's.
Additional FAQ's
Can I do my own "Make Ready"?
Not at this time. Our vendors are specifically trained to guarantee that the home aligns with rental standards. The 'make ready' process plays a pivotal role in securing the success of the leasing procedure(a quality home presented), both from a legal standpoint and in providing a positive move-in experience. Homeowners may lack the professional expertise needed for this process, potentially leading to the creation of work orders after move-in. This, in turn, can result in substantial additional expenses and what we refer to as a "starting on the wrong foot" situation.
What are some of the drawbacks of

NOT undergoing

the "Make Ready" process with a professional?
Leasing takes longer, creating incorrect home expectations, results in ton of post-move-in work orders, and lower tenant satisfaction, leading to higher turnover costs.
A property that has undergone a comprehensive "Make Ready" service typically leases out more quickly and attracts high-quality tenants. When potential tenants encounter a well-prepared and well-maintained home, it signals that the homeowner values the property and expects tenants who will also care for it.
On the flip side, a poorly maintained or unprepared home can lead to extended vacancies, resulting in significant loss of rental income. Furthermore, tenants moving into such homes may generate multiple "move-in work orders." If a property hasn't undergone proper preparation and make-ready, it can accumulate 10-15 work orders, causing substantial financial strain for the homeowner. While homeowners have the option and support to prepare the home initially(make ready process), when work orders arise, they are often left with limited choices but to address them.
What does Next Brick do during the "Make Ready service" and how the process looks like?
The Acquisition Inspection and Make Ready processes occur on the same day.
The technician will initiate the Acquisition Inspection, usually lasting 1-1.5 hours documentation process, followed by Make Ready addressing any identified issues(general household items, which may take 5-6 hours. Our objective is to complete all the work in a single day to prevent delays and the need for rescheduling or sending the technician back.
During an ACQ inspection, the technician will inspect all areas of the house, regardless of their priority or frequency of use.
Documentation-take pictures of all appliances and its label.

General Property Condition: Ensure that the property is clean and well-maintained. Address any visible defects or necessary repairs.

Safety and Security: Changing lock system to keypads. Verify that all doors and windows lock securely. Ensure smoke detectors and carbon monoxide alarms are in working order.(changing batteries)

Appliances: Test all appliances (stove, oven, dishwasher, refrigerator, etc.) to ensure they are in good working condition. Report any malfunctioning appliances.

Plumbing and Fixtures: Check for any leaks, drips, or plumbing issues. Inspect faucets, sinks, toilets, and showers to ensure they function properly.(Clear all drains.)

Heating and Cooling Systems: Confirm that the HVAC system is in good working order. Replace air filters, if needed.

Electrical Systems: Test light switches, outlets, and the circuit breaker panel for any issues. (Changing light bulbs.)

Exterior and Landscaping: Curb appeal is crucial. Report for landscaping needs.

Interior Paint and Flooring: Check the painting condition and ensure the flooring is clean and in good condition. Report for painting needs

Cleanliness: Checking cleanliness of the home, including carpets, walls, and windows. Report for professional cleaning service.
Overall, a comprehensive inspection that covers all areas of the house is essential to ensure that the property is well-maintained and free of any issues that could affect its quality and livability.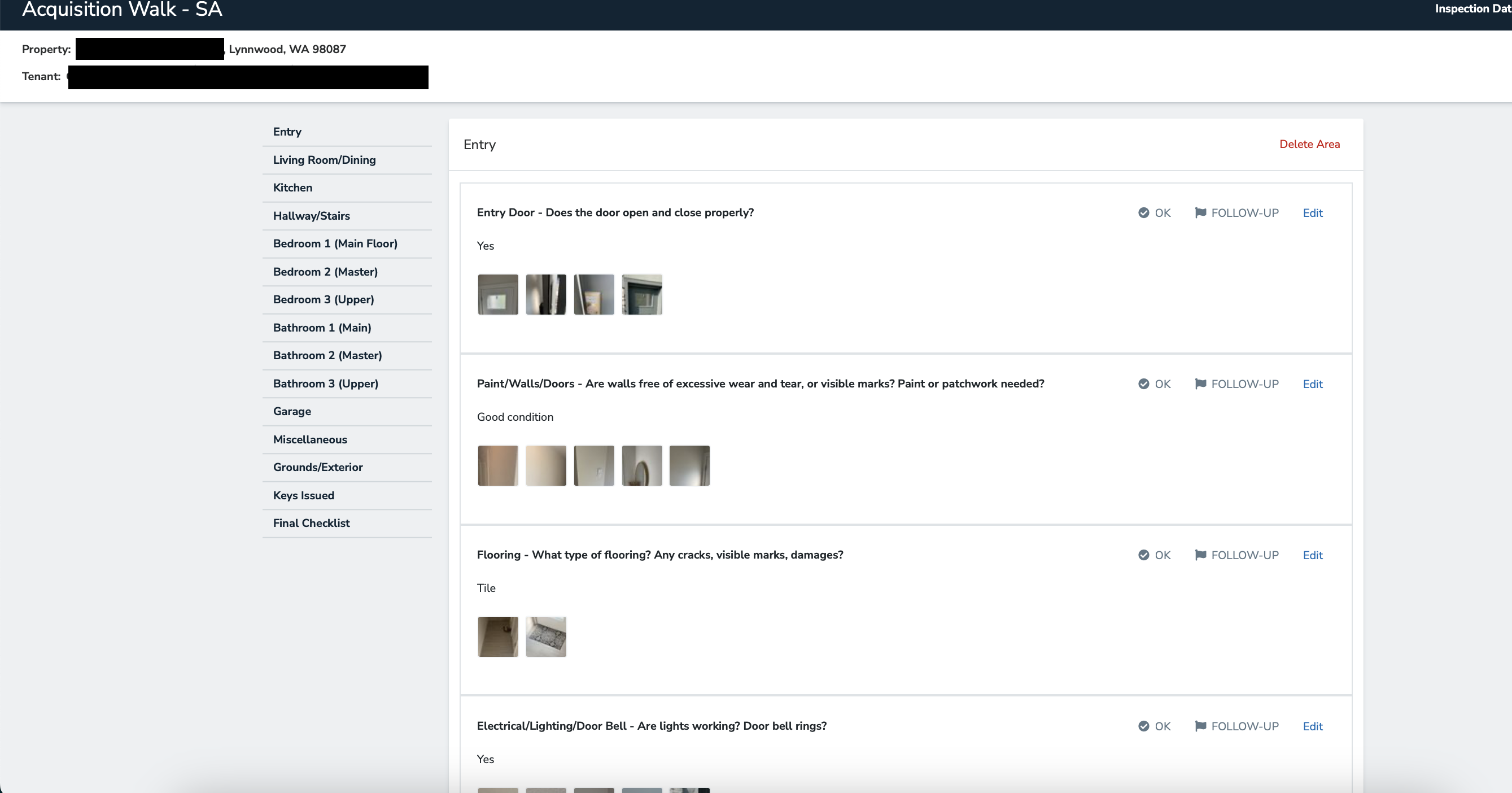 Following the ACQ Inspection, the technician will proceed with the make ready service do our best to address all the issues identified on the same day.
Please note: Major repairs, painting, or cleaning tasks are not included in the scope of the Make Ready process. These tasks will be outsourced to specialized professionals or service providers separately.
The following services must be done by the specialized vendor and completed before listing the home:
Deep Cleaning: Estimated cost of $400-$500.
Landscaping: Estimated cost of $400-$600.
What happens with issues that cannot be addressed or require specialized vendors during the make-ready service?
For the more severe issues identified such as major plumbing issue, malfunctioning appliances etc. The technician will then create a list of these issues, creating separate work orders and start the sourcing specialized vendors and coordination process. The additional work orders(Melds) will be monitored by the maintenance coordinator until they are completed.
-Financials-
What is required from me as the homeowner?
We request a minimum contribution of $1000 to be available in your homeowner's portal to initiate the make-ready process. Otherwise, we will not be able to start the process.
Do you ask my approval for Make Ready process?
We do not seek approval for the make-ready process unless significant work orders or issues require specialized vendor.
How much does Make Ready generally cost?
The typical make-ready expenses can account for up to 25% of one month's rent, excluding any painting work or major work orders. You will receive receipts for materials as part of the make-ready closeout calculations.
-Goal-
What should I be expecting after the Make Ready process?
A comprehensive home inspection report will be provided, including accompanying pictures.
A detailed record will be maintained, documenting the list of identified items and the issues that have been addressed.
All information regarding any additional outsourced work orders will be documented and made available.
Our objective is to accelerate tenant acquisition, decrease the number of post-move-in work orders, improve tenant satisfaction, and simultaneously protect the homeowner's legal and financial interests.